How Do Heated Vests Work?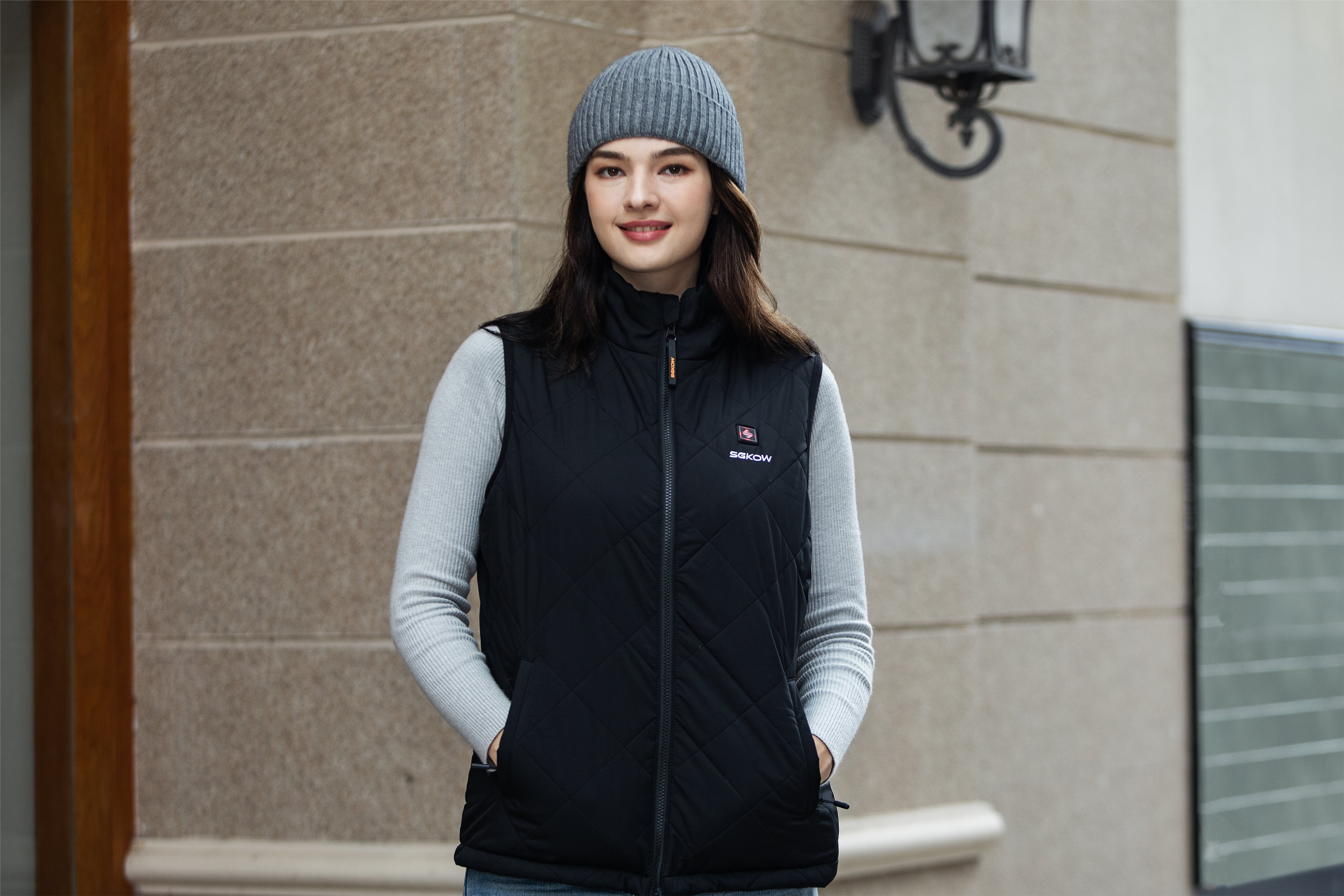 With expanding population and urbanization leading to colder regions, heated clothing is a necessity in the modern era. With technological innovation, developers have taken one step ahead to create user-controlled heated vests.
This is an emerging yet popular sector of garments reaching a global audience. This has led to manufacturers investing in integrating smart systems into it for better performance. Heated vests have dominated markets worldwide but finding the right manufacturer has its importance.
SGKOW is a leading provider, in this regard, of heated vests with adjustable heating systems and uniform heat distribution. The vests are extremely lightweight and can generate heat output that can help a user survive freezing temperatures.
This article revolves around how heated vests work and which things should be considered before purchasing one.
Understanding the Basics of Heated Clothing
'A wearable garment that contains integrated heating components generating continuous heat and offering comfort and warmth is known as a heated vest'
Key Function
Its prime focus is on providing heat in subzero temperatures to save an individual from harsh weather conditions. They have particular importance for users who stay outdoors more and are involved in snow-related activities. These include skiing, snowboarding, hiking as well as work-related events.
Historical View
Looking at the historical view of heated clothing, the concept of heated clothing dates back to the early 20th Century. Medical requirements were the first that were met when heated garments first came into view. Then heated aircraft wear was created especially for pilots.
It all boils down to the late 1960s when heated clothing became a popular commodity among individuals. This was when it came into play for recreational and usual occupational pursuits. In the early days, heated garments came in the form of bulky wired fabrics sewn together.
But with innovation and adaptation of technology in the field, elements such as flexible carbon nanotube heating elements and portable batteries are used. An evolved form of heated vests is created when these are employed in such as way that it provides a lightweight and portable solution for the users. SGKOW's Classic Heated Vest for men is one of the prime examples of a smart design with optimum functionality.
The Technology Behind Heated Vests
Heated vests work with even distribution of heat within the vest, aided by meticulously placing heating components in it. Here are a few factors that elaborate on the technology behind this device.
Types of Heating Elements Used
These are considered the heart of the heated vest. This is because they are responsible for delivering equal amounts of heat to all parts of the vest to the wearer. There are several types of heating elements being used, as follows.
1.
 

Carbon Fiber Elements

Thin carbon fiber filaments contribute to these small structures. These are flexible enough to fit the natural curvatures of the wearer's body. Their durability and efficiency are top-notch, and they offer consistent heat for longer durations of time, evenly across the vest.
2.
 

Metal Wire Elements

Nichrome wire and nickel wire are some of the popular and commonly used metal wire elements due to their high level of heat resistance. These are highly efficient as they are quick to convert electricity into heat and provide it to the user's body. They are resistant to corrosion and have a high heat output. Apart from this, their budget-friendly nature makes it a high priority for the manufacturer.
Power Sources for Heated Vests
The direct reliability of heated vests on battery packs is undeniable. The battery's capacity determines how long a heated vest is capable of operating. Such as SGKOW's Women's heated Vest White contains a 7.4V 8000mAh CUL/UL-certified battery, that can give a usage time of up to 10 hours.
Battery type is also a big factor in this technology. Generally, Lithium-ion batteries are employed. These are used due to their high energy density. Their durable nature and long lifespan also make them contributing factors to their utilization.
Lithium polymer Batteries are also used in some due to their lighter weight in some vests. But these fail to operate for longer periods.
 Distribution of Heat
An equal heat distribution defines the efficiency of a heated vest. It avoids getting burns and provides a uniform warmth across the heated vest. Smart control that understands which understands specific areas of heat within the vest sensing body temperature is key.
This is referred to as zone heating, and it helps customize the level of heat in specific areas as per the user's preference. SGKOW's Women's Heated Fleece vest is ideal in these areas as it focuses on the abdomen of the user after it has provided an even distribution of heat within the garment.
Material and Design Considerations
The fabric and design employed in a heated vest primarily affect its performance and comfort, thus these should not be taken lightly.
Fabrics and Materials Used in Heated Vests
The use of synthetic down, fleece, Primaloft, and Thinsulate allowed for efficient insulation without compromising the garment's mobility or portability. Apart from this, the inner lining of the vest needs to be breathable, thus materials such as merino wool, cotton, and fleece are used. Make sure the material is resistant to wear and tear and weather conditions.
Design Aspects for Optimal Comfort and Heat Management
Compromising comfort reduces the efficiency and usability of a heated vest. The weight of a heated vest relies on its design, and it caters to the accurate placement of heating elements within it. The back, chest, and abdomen are common areas where heating elements are placed which ensure even heat distribution and avoid extra weight.
The battery pack should also be smartly placed within the pocket to keep balance in terms of weight. Moisture buildup and overheating during activity are also important design details that must be catered to. Zips and collar placement should be in front and top for breathability and airflow. It also aids movement flow with no hindrance.
Safety and Efficiency
Fires, explosions, electrical shocks, and chemical excretion are common drawbacks when it comes to using heated vests If proper care is not employed. Here are a few safety considerations to ensure the careful and proper use of a heated vest.
Safety Features in Modern Heated Vests
1.
 

Overheating Protection

Reaching excessively after being in use for longer periods can lead to mishaps such as fires causing blisters and urns to the user. Modern heated vests come equipped with overheating protection that uses temperature sensors and control circuits that automatically monitor and reduce the temperature of the vest above a level.
2.
 

Short-circuit Protection

The second feature that comes built-in with a new heated vest is shown when an exposed wire or a damaged component comes in direct contact with the electrical circuit. It breaks the circuit to avoid any accidents and cause fires.
3.
 

Water-resistant Electrical Components

Conformal coatings, encapsulation, and waterproof connectors are some of the measures applied in modern heated vests. These avoid the contact of heating elements directly with any sort of moisture. It ensures safety and minimizes risk.
Energy Efficiency and Environmental Impact
Similar to a piece of electrical equipment, heated vests consume a considerable amount of energy. This makes them have an environmental footprint. Opting for energy-saving considerations such as carbon fiber heating elements can reduce its environmental impact.
Excess usage also should be avoided to consume less power, and vests with smart zone heating are a great choice in this aspect. But all in all, this is a more efficient heating method than layering.
Practical Applications and User Considerations
Being a versatile piece of clothing, this is a great addition to people's wardrobes that are, especially those living in colder regions. Some of its practical applications are as follows.
For athletic endeavors such as training for sports and competitions, heated vests find their use.
Heated vests also have therapeutic benefits such as improved blood circulation, reduced inflammation, and saving from hypothermia.
Construction workers who stay outdoors for longer hours also employ these and have it as an essential part of their day-to-day activities.
Users consider heated vests that have a comfortable fit and have adjustable heat levels for optimal benefits.
Choosing the Right Heated Vest
Several factors like individual preferences, battery life, heat output, and smart heat adjustment are prime considerations when buying a heated vest.
The weight of the vest should not be too much, and it should not hinder the movement of the user.
The second factor to consider is the zone heating capabilities are active in the heated vest for controlling the heat output.
Assess that the heated vest batterylife aligns with the time of your intended use, and then purchase it.
Reinforced stretching and durable zippers should be kept in mind for a more durable feel with high longevity.
Verify that the heated vest complies with safety regulations and is UL or CE-certified. SGKOW's Unisex Heated Vest covers all these aspects perfectly.
Future Trends and Innovations
The demand for heated vests is predicted to increase during the next several years. The increasing appeal of outdoor pursuits, advances in heating technology, and expanding public awareness of the value of heated clothing are all factors in this trend.
Incorporating self-regulating heating systems is the top priority of manufacturers to make it common in heated apparel in the coming years.
Ultra-capacitors or solid-state batteries are in the works to be used within the battery packs of heated vests for longer usage periods and ease.
With personalized recommendations, health monitoring sensors are also in the works to be used in heated vests.
Conclusion
Heated apparel has been the hottest trend in the garment sector within the past few decades and is here to stay. Heated vests are one of the most high-in-demand pieces in the current market. Not only is it integrated with smart technology, but its innovative design makes it a leader in the field.
SGKOW heated vests are ideal as they have kept user considerations such as men's lightweight vest optimum heat distribution, durability, and breathability in mind. We hope this article helped you understand the technology and working of a heated vest effectively.
---