How to Work a Heated Vest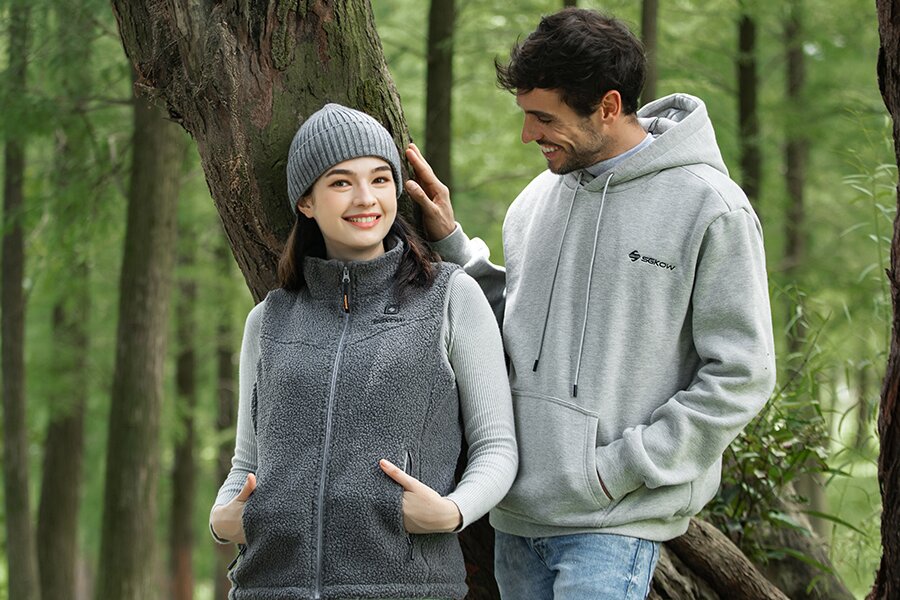 A revolutionary solution to staying warm in subzero temperatures is heated apparel. With advancements in technology, heated clothing has also evolved. Premium materials as well as the latest heating technology are employed regularly to improve performance against cold weather.
The heated clothing market value has reached a record high of $270 Million and growing. This showcases the high demand for heated vests. Trapping body heat along with providing additional warmth makes heated vests ideal. However, finding manufacturers that conform to industry standards and exceed safety requirements is challenging.
SGKOW, in this respect, is a US-based platform that specializes in heated apparel. Their heated vests are light and offer full-body warmth with long-lasting Lithium-ion batteries. With over 100,000 customers, this firm offers exclusive heated clothing options for both men and women.
To understand, how these heated vests work, we have created a detailed article below.
Understand the Functionality of a Heated Vest
Operating Principle
The technology behind heated apparel like vests is called electrical resistance heating. This implies that any substance that an electric current passes through will heat up. An electrically resistant substance is used to create its heating elements.
Connecting the battery pack to the vest and turning it on sends electricity through its heating parts. This warms the body of the user. Typically, carbon fiber, stainless steel, or copper are used to make the heating components.
These cables are carefully sewn into the garment at specific places. The abdominal region, back, and chest are the major target areas. The whole midsection may benefit from the vest's uniform heating due to its design.
Heat Settings
By modifying the temperature setting, a heated vest's heating components may provide a variable amount of heat. Low, medium, and high heat settings are standard on modern heated vests.
SGKOW's heated apparel such as heated vests feature these 3 heat settings. Made of high-quality Polyester, their vests provide full-body warmth. The low level will produce very little heat, whereas the high setting can generate much more.
To combat the chill of winter, many opt for the practicality and convenience of heated vests. They're also a fantastic choice for individuals who have trouble keeping their body temperature balanced. This can be due to medical issues like Raynaud's syndrome.
Components of a Heated Vest
It's important to comprehend the many parts of a heated vest for added effect. They are elaborated below.
Heating Components
One of the most integral elements of a heated vest is its heating components. These are made of materials that have high resistance to electricity. For the most part, copper or stainless steel wires are used for the heating components. These wires are discreetly sewn into the vest.
Also, there are many types of heating components used widely. Metal fiber composite and carbon fiber heating parts are compact and lightweight. In addition to being quite comfortable to wear, they are also incredibly soft and breathable.
Battery Pack
The heated vest battery pack typically lies in a vest pocket. Users have the option of using a disposable or rechargeable battery pack. Rechargeable batteries offer financial and ecological benefits. SGKOW's current lineup of classic heating vests for men includes these.
The rechargeable battery packs in here are 7.4V/2A and 1000mAh in capacity. There are three different heat levels available. It is more convenient to use disposable battery packs, but they can be more costly.
Control Panel
The vest's control panel is normally situated on its front. It follows 3 operations. The vest can be activated and turned off and, the temperature can be changed by this. The timer function included on certain systems lets users program the vest to turn off automatically after a certain period.
In this aspect, SGKOW has its Unisex Heated Vest where the heating level can be changed from a button on the left side of the chest. It ideally adapts to temperature according to the outside weather conditions.
Insulation
Common materials used for insulation include fleece and down. The insulation aids in trapping the body heat generated by the heating sources. Even in subzero temperatures, this aids in maintaining the user's body heat.
SGKOW's Heated Vest for woman contains high-quality fleece as an insulating material. It is a synthetic material and offers moisture to escape, making it comfortable to wear.
External Covering
In most cases, a tough fabric like nylon or polyester serves as the exterior covering. The outer casing prevents wear and tear on the vest and its heating components. High-density 100% Polyester is found in SGKOW's Women's Classic Heated Vest, which offers protection against rain and strong winds.
Notable Advantages of Heated Vest
1.
 

Enhanced Comfort Level

Even in subzero temperatures, a heated vest may keep the user warm. This is due to the fact that the vest's heating components may produce direct heat on the body. Compared to other conventional insulating strategies, this approach is advanced.
2.
 

Improved Blood Circulation

Directing blood to the regions where the heating components are placed, these enhance circulation. Those who experience poor blood flow may benefit from this. The possibility of developing a blood clot or experiencing any other circulation issue is reduced.
3.
 

Analgesic Effect

When worn, heated vests help alleviate soreness and stiffness in muscles. The increased blood flow and reduced muscular tension are both benefits of the heat. It has analgesic and anti-inflammatory properties. People who suffer from illnesses like arthritis or fibromyalgia, which cause chronic pain, may benefit greatly from this.
4.
 

Versatility

Depending on the activity and the weather, winter heated jackets and heated fleece jackets may also be worn as additional layers of clothing. These versatile pieces of clothing provide even more warmth and insulation during cold weather evenings. For example, a winter heated jacket or heated fleece jacket can be worn over a shirt and under a heated vest for maximum warmth and comfort.
Usage Suggestions
In terms of any skin conditions, avoid using a heated vest. Conditions such as psoriasis and eczema can flare up If heat is applied, thus it isn't recommended.
Start with the lowest heat settings of the vest. Then adjust it to medium or high temperatures according to personal preference or weather conditions.
It is suggested not to use the heated vests for extended periods of time. Consistent heating can result in heat exhaustion and allergies.
Before putting the vest on, make sure you have thoroughly read through the instructions provided by the manufacturer. Reading this will give you a better idea of how to utilize the vest effectively and safely.
If the battery of the vest is low, avoid using it. This can cause overheating.
Conclusion
With technology taking another turn, heated vests have taken the front row in helping individuals block cold weather and stay warm. These vests help in staying warm and avoiding various cold-related health risks such as hypothermia. They are ideal for sports activities as well. We hope this article helps you understand the working of heated vests effectively.
---