What is the Best Women's Heated Jacket in 2023?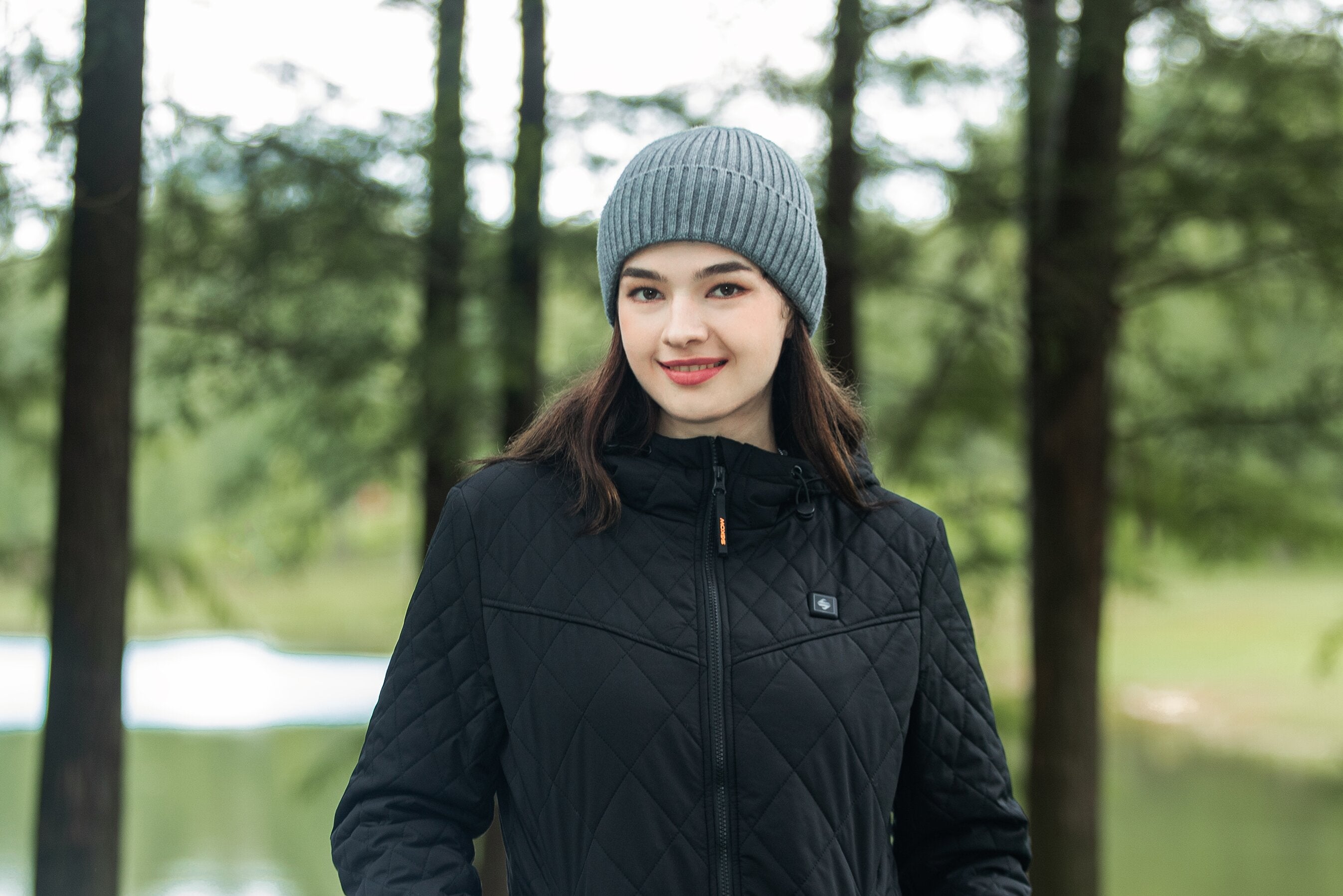 Every so often, technological specialists come up with brand-new products that facilitate people's daily lives. One such invention is a heated jacket. Over time, these have risen in popularity, mostly in Northern zones globally.
More and more variations of heated jackets, each with its own set of functions and user-friendliness improvements, are being produced. While all of these items serve the same purpose—to keep the wearer warm in freezing weather—some of them are more equipped than others.
 To narrow down the most stylish, yet high-performing heated jacket among all in the market, we would suggest looking into SGKOW's heated apparel. The brand contains some of the most lauded items because of its advanced heating elements, heat distribution, and longevity.
The article below elaborates on this in more detail.
The Rise of Heated Jackets in Fashion
In recent years, even in colder regions, a growing number of people lead lifestyles that are active. This necessitates fashionable but practical, winter apparel. People are growing increasingly conscious of current trends in fashion. This is true even while dressing for cold weather. People seek stylish apparel that keeps them warm.
 Modern innovations in clothing development have allowed for the creation of chic and efficient winter outerwear. Heated jackets and water-resistant boots, for instance, may be purchased in a wide range of trending varieties. Heated jackets, which combine the finest elements of technology and design, have come far in recent years.
 Although heated jackets have been available for decades, their popularity has skyrocketed in the last few years due to affordable options being introduced. It is also because of advances in thermal technologies. The market of heated jackets has reached a record high of $271 Million worldwide.
Key Features to Look for in a Women's Heated Jacket
There are some features that you should consider before buying a woman's heated jacket.
Battery Life and Charging Options
A heated jacket battery life is something to take into account about. This is in particular if you want to use it for long durations. The battery life of the jacket you select should be a minimum of 6 hours. SGKOW's Classic Women's Jacket is a great option as it has a battery life of 8–9 hours on low settings, 5–6 hours on medium, and 3-3.5 hours on high settings.
Heat Distribution and Control Settings
It is important to have the ability to adjust the internal temperature of the heated jacket. It should be to a degree at which you feel most relaxed. Consider purchasing a jacket that has a simple and rapid temperature adjustment mechanism. You can choose SGKOW's Heated Jackets as they have a single control on the left side of the chest area. Turning this control on allows the heating element to distribute heat evenly across the jacket.
A heated jacket's warmth has to be evenly dispersed throughout the entire jacket. This will guarantee that you are not simply hot in one area but overall. Consider jackets that have heating components strategically placed all over the back, chest, etc.
Material and Insulation Quality
Try to choose a heated jacket that is created from a long-lasting material. Fabrics like polyester and nylon are often used to make heated outerwear. All of these components are weatherproof and durable, therefore suitable for usage outdoors. SGKOW's jackets have a surface composition of high-density polyester, making them an ideal choice.

Safety Features and Certifications
Before buying a woman's heated jacket, evaluate safety features and certifications. These may avoid accidents and injuries and guarantee the jacket fulfills safety demands. In this regard, If the jacket overheats, overheating prevention turns off the heating components. Injuries like burns are easier to avoid if this is in place.
 Auto-shutoff turns off heating components after 8 hours. It may protect the jacket from burning if you forget to turn it off. Choose a UL or CE-certified heated jacket. This ensures that the jacket is safe to use and fulfills safety regulations.
Design and Style Considerations
The ideal fit for an insulated heated jacket is snug without being constrictive. In order to acquire the best possible fit, shop for a jacket that comes in a wide range of sizes. Heated jackets may range from informal to formal in terms of cut and design. It's key to choose a jacket that fits with the contours of the body but also feels appropriate in a range of settings.
Review of Top Women's Heated Jackets in 2023
Although there is a saturation of heated jacket manufacturers in the market, there are only a few that focus on quality along with efficiency. One brand acclaimed for its fine line of heated apparel is SGKOW. The firm offers a diverse range of certified heated jackets and heated vests.
 These are in a range of styles, for males, and females, and items that are unisex. With regard to women, SGKNOW knows how to balance functionality with staying fashion-forward. 2 of their remarkable heated jackets along with their exceptional features are mentioned below.
SGKOW Women's Heated Jacket Coat with Battery Pack
The first product they offer is their superiorly stylish and high-tech Heated jacket coat. Its premium quality materials contain high-density Polyester as a primary element. The jacket cost is designed in such a way that it is a versatile piece of clothing and meshes well with a lot of outfits.
Its heating elements distribute even heat with 5 carbon fiber heating zones. These keep you warm even in subzero temperatures.
Considering its performance, it has a compact 5/2A, 1000 mAh heated jacket battery pack. It's able to keep the user warm for up to 8 hours at low settings.
It has a waterproof plug design, so the jacket fabric can be machine-washed.
Its 3 heat settings and updated battery life have gathered a high rating.
SGKOW'S Classic Women's Heated Jacket with Battery Pack
SGKOW's second note-worthy product is its Classic heated jacket. It has garnered attention due to its durability and efficient heating technology. This jacket comes with a 3-year warranty, making it a perfect buy to keep an individual warm in cold temperatures.
It comes with a 3-carbon fiber heating system, one at the front and one at the back.
Its 7.4V battery is high performing with an 8-9 hours output time.
The jacket is windproof and provides high insulation from the cold even in extreme weather.
It has the finest quality fabrics in its making, which speaks of its quality itself.
This is highly affordable, costing only $139 which is much lower than other heated apparel in the market. For its functionality, it offers a high value for money.
Benefits of Owning a Heated Jacket
Heated jackets are beneficial in the following ways.
1.
 

Enhanced Comfort

In freezing conditions, a heated jacket might be a lifesaver. People whose jobs or activities require them to spend time outside in the cold may benefit most from this.
2.
 

Therapeutic Effect

Stiffness and discomfort in the muscles and joints may be alleviated with the help of a heated jacket. As a result of the heat, blood flow is improved and swelling is lessened.
3.
 

Energy-Efficient

National Renewable Energy Laboratory (NREL) research indicates that using heated jackets may save energy use by as much as 67%. It is relevant to the power a central heating system needs to run at a steady, acceptable temperature.

 The research also indicated that using heated jackets may save heating costs by up to half. Heated jackets not only help save electricity but also cut down on the production of greenhouse gases. This is because, compared to conventional heating techniques, electrically heated jackets use less power.
4.
 

Relaxation

In addition to keeping you warm, the soothing warmth of a heated jacket may help you de-stress. Since heat has been shown to alleviate muscular tension and facilitate relaxation, it may be a useful therapeutic tool.
5.
 

Improved Productivity

Optimal concentration and efficiency may be achieved in a warm and cozy setting. Whether you're in the office, the gym, or playing a sport, a heated jacket will keep you warm and comfy. It helps you concentrate on the tasks at hand.
6.
 

Better Protection

To keep warm and secure in the winter, heated jackets are a great investment. It can save you from fatal conditions such as hypothermia.
Maintenance and Care Tips
Proper Storage and Cleaning
While it's not in use, keep the jacket in a dry, cool spot. Keep the jacket out of the dampness and direct sunshine.
Remove the batteries from the jacket before putting it away. Because of this, the battery life will be prolonged.
Removing and storing the heating components individually is recommended for long-term jacket storage.
The jacket should be washed by hand in cold water with a moderate detergent.
The jacket should not be dry-cleaned.
When putting the jacket back on, let it dry in the air fully. As a result, the heating components will be protected.
The jacket should not be cleaned with any harsh cleaners or chemicals. The cloth and heating components are both prone to damage from them.
The jacket must not be ironed. This is dangerous and may cause the heating components to break.
Battery Care and Replacement
Always make sure the battery is fully charged. The battery's lifespan will be extended as a result of this.
Make sure the battery doesn't die altogether. In the event that the battery dies, it should be charged as quickly as possible.
The battery should be kept in a cold, dry area when not in use. Keep the batteries out of the rain and out of the sun.
The battery should be charged to roughly 50% before being put into long-term storage.
When the battery finally dies, swap it out with one that was intended to power heated jackets.
Check to see whether the battery is suitable for the heated jacket.
When changing the battery, make sure you stick to the manufacturer's guidelines.
A damaged battery should not be used. This might pose a fire risk.
The battery should not be overcharged. This might cause the battery to malfunction and die sooner than expected.

Conclusion
Cold weather demands clothing to stay warm, but even layering up sometimes doesn't hold the effect. Heated jackets are the most effective choice in this regard. They serve the purpose of providing required insulation against harsh winds and below-zero temperatures. The best heated jacket that we have come across is the Classic Heated Jacket for women by SGKOW. It now only makes a style statement in winter, but has an incredible battery performance and heat output. We hope this article was of maximum help to you.
---